Hamilton Co. Young Democrats
FOR OUR FUTURE
ABOUT US
The Hamilton Co. Young Democrats of Indiana are a civic youth organization dedicated to widening the interest, knowledge and participation of young people in government and the political process. We aim to train and develop young people for positions of leadership and to serve those in need in our community. We strive to increase awareness and activism on issues of importance to young people and increase the role of under-represented people in the Democratic Party, government and society. We represent the cities of Carmel, Fishers, Noblesville and Westfield alongside the towns of Cicero, Arcadia, Atlanta and Sheridan. Together we are leading the way forward in Indiana for progressive politics and are the backbone of local grassroots political campaigns for Democratic candidates here in Hamilton County. Together the Hamilton Co. Young Democrats help to show that #YoungGetsItDone!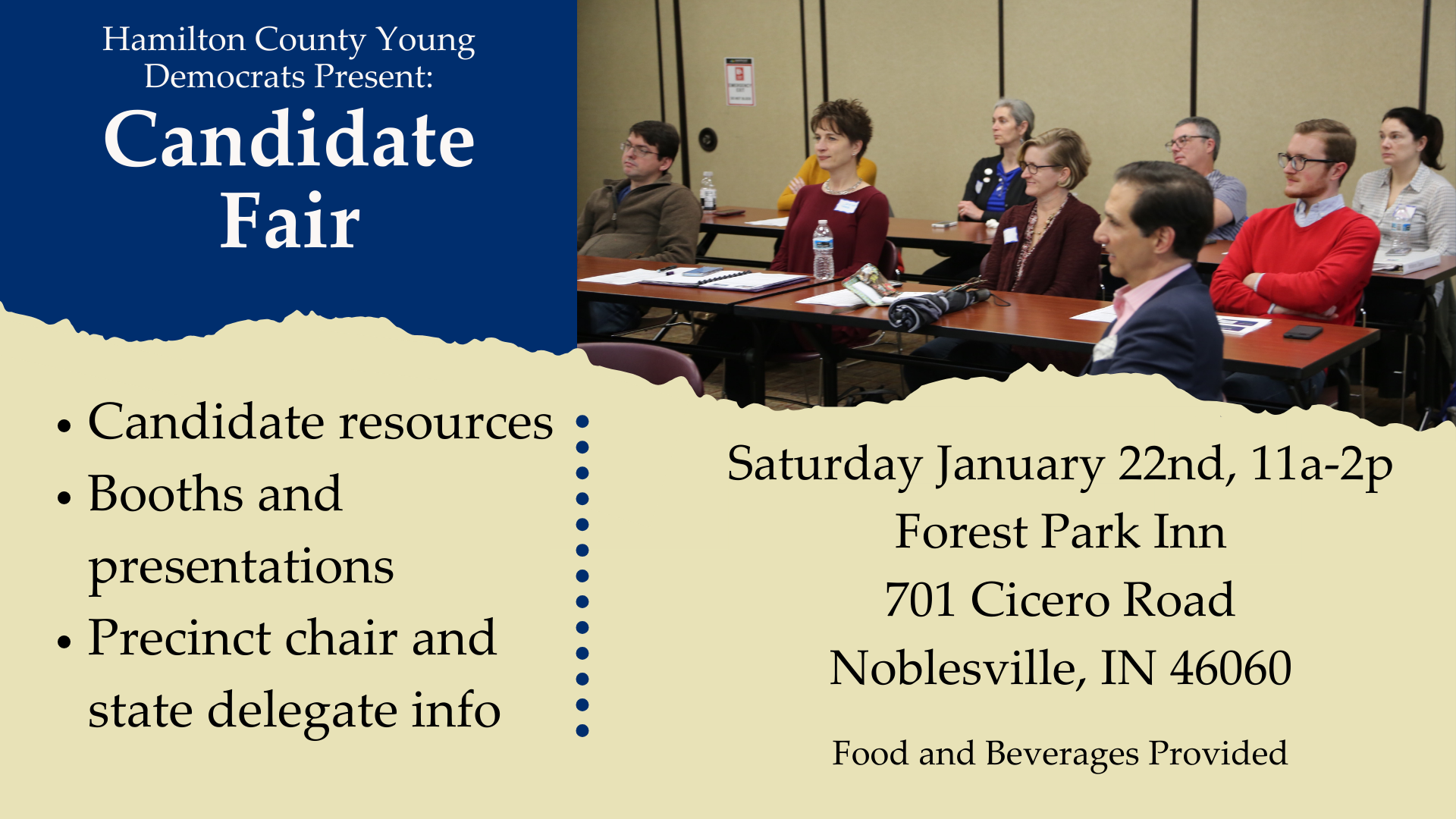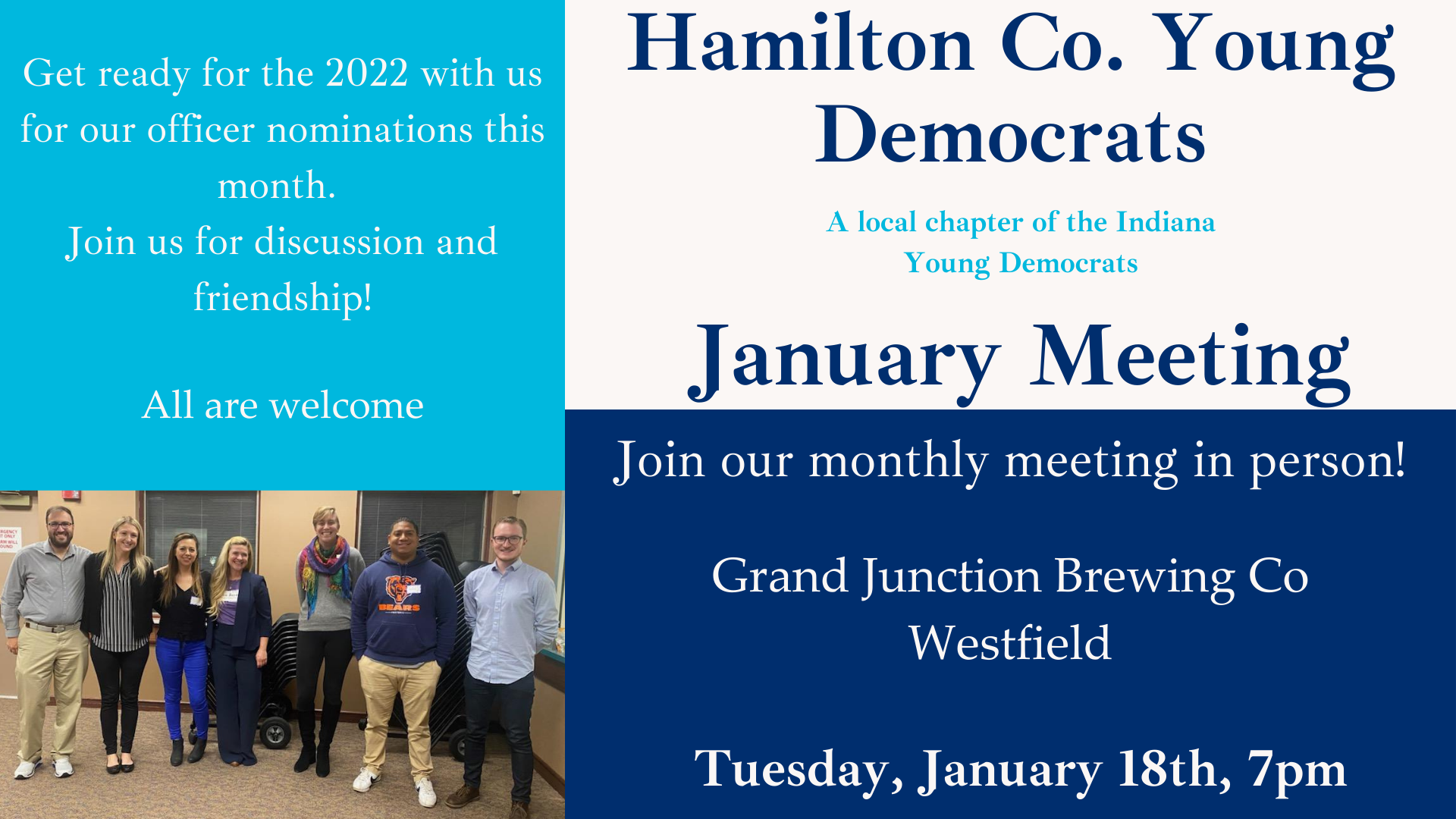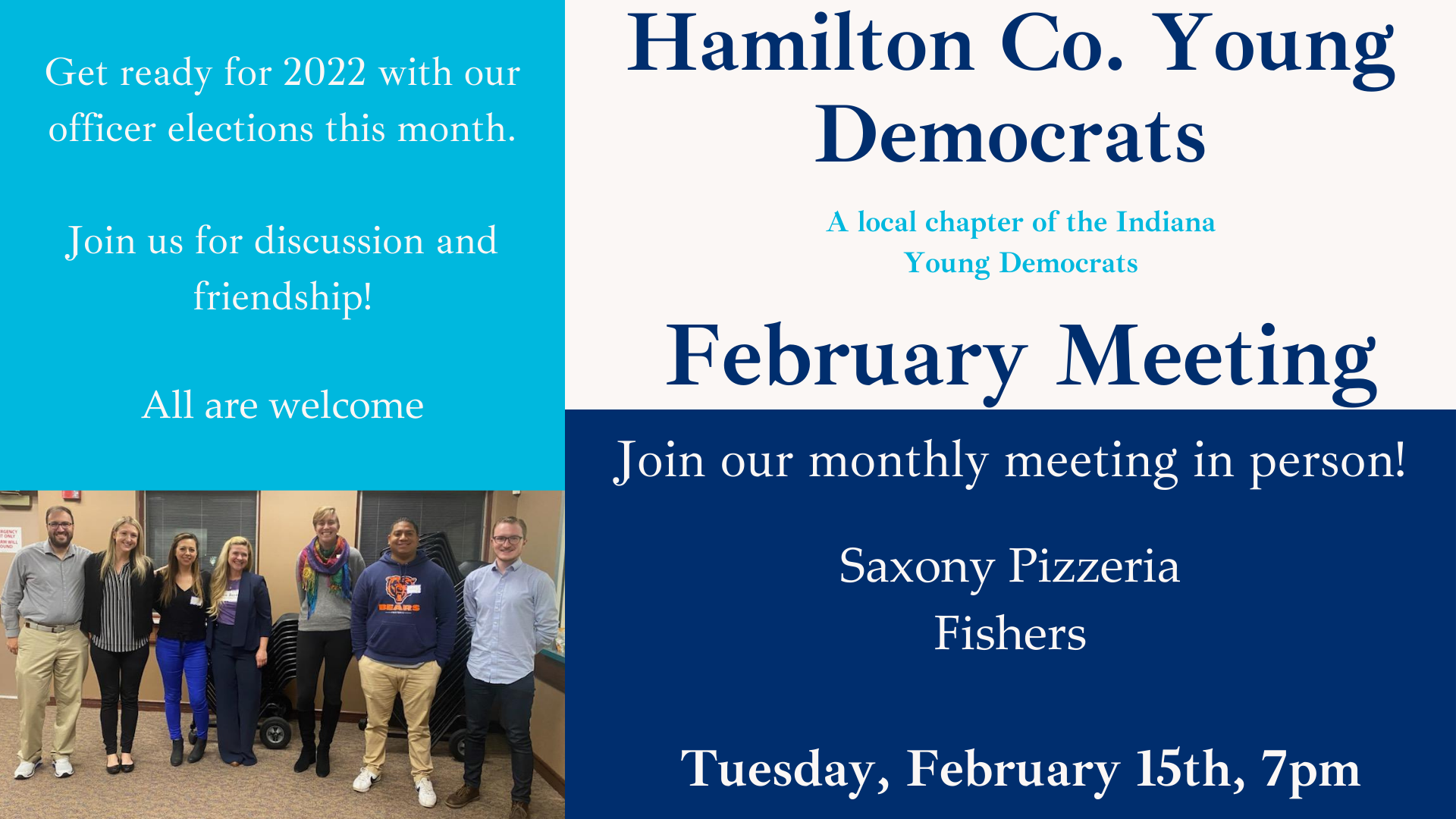 CANDIDATE FAIR
Come join the Hamilton County Young Democrats this month for our annual Candidate Fair! All are welcome in the Forest Park Inn for this event to learn necessary skills and info to run for office in Hamilton County.
We will have booths open and presentations throughout the day, with a break for the provided lunch. Presentations will include: fundraising, GIS and Field Planning, and Political Communications. Booths will include info on: Huntington Bank, Campaign Finance, ActBlue, Election Info, Election Laws, VAN/Votebuilder, Logo Design, City Clubs, Volunteering, State Delegate and Precinct Chair info. We will also have speakers TBD.
Events like this would not be possible without our sponsors! Thank you to our Diamond Sponsors: The Indiana Young Democrats, The Hamilton County Democratic Party, and Better Indiana; our Silver Sponsors : A Brando Corsaro and Jennifer Williams; and our Bronze Sponsors: Sen. Fady Qaddoura, Jake Madore, and Janice Black!
We would also like to think our past speakers in the Townhall Series: Washington Township Board Member Erica Boswell, Fall Creek Township Board Member Rachna Greulach, and Elwood Mayor Todd Jones.
Interested in becoming a Candidate Fair sponsor?
You do not need to be a member of our chapter to participate in the tournament; however, if you would like to become a member of HCYD, we would love to have you! You can sign up to become a member of our local chapter here:
https://forms.gle/R89kAwEjXMADtJbP7
Mail / Donation by Check:
If you'd like to mail a check, please make the check payable to and mail to:
HAMILTON COUNTY YOUNG DEMOCRATS
8500 E 116th St #6425
Fishers, IN 46038
*Your safety is important, please follow all CDC guidelines when attending this event.